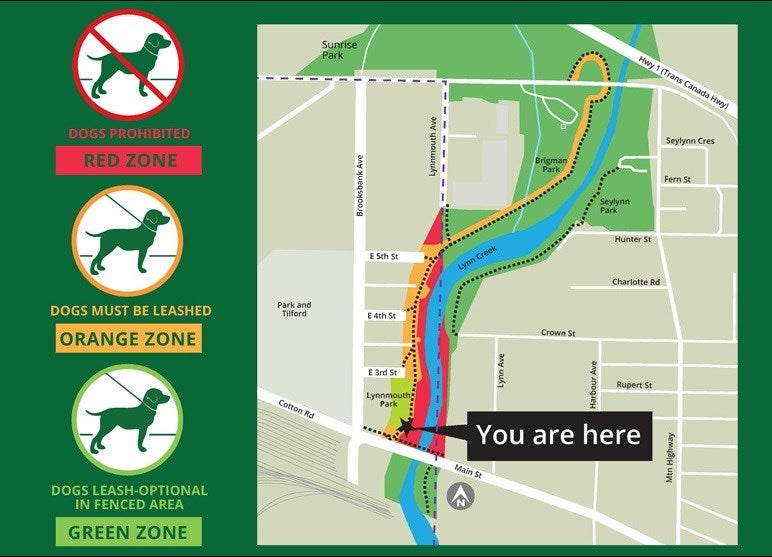 There is a new off-leash dog park just completed by the City of North Vancouver - Lynnmouth off-leash dog area. This new puppy play area is located just north of Main street in the Bridgman Park area west of Lynn Creek.
"
The new fenced dog park area offers 3,600 square metres of space where dog owners can sit and watch their four-legged best friend run around safely. The area boasts bark mulch surfacing, new gravel pathways and improved drainage, as well as benches, picnic tables and waste receptacles. 
In a community outreach session, the city says there was an "even split" between respondents who supported the off-leash pooch area and those who were opposed to changes at the park. Supporters were happy to be getting a "convenient, contained and formal off-leash area with amenities such as seating and dog waste bins." They were also pleased that the landscape focuses on native plants and includes a pollinator garden at the park entrance. Meanwhile, opponents were concerned the off-leash area was "too small" and "would result in degradation of the grass and impact site drainage." They also thought the "additional fencing would negatively impact the esthetics of the park." With the new space now ready, the city is reminding dog owners that the main path through Lynnmouth Park is on-leash to protect the surrounding habitat. The city has been implementing trail and habitat improvements in the park since 2018, with a focus on restoring streamside habitat along the west bank of Lynn Creek to help support local fish and wildlife populations. Work on trail improvements is continuing in the area." (
Elisia Seebar, North Shore News - 2020
).
If you are interested in the Seylynn Village/Lynnmour area, here are a few current Pre-Sale projects to look at:
Or if you are thinking of Buying or Selling Real Estate on the North Shore, reach out - jonny@jeffdonohoe.com - 604-347-8663