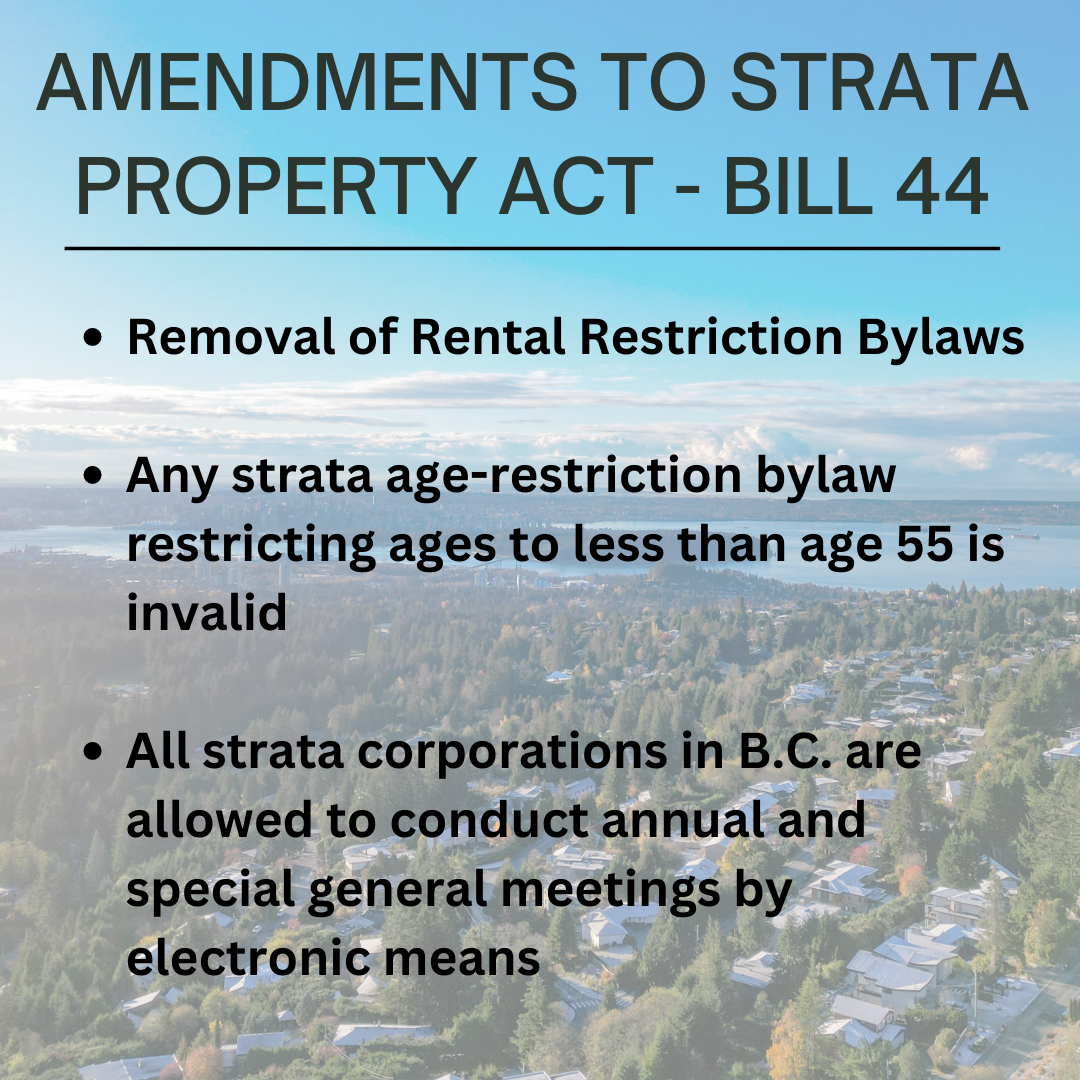 Effective November 24, 2022 Bill 44 was passed making the following changes to the Strata Property Act.
No Rental Restriction bylaws allowed: N
o strata corporation or section is allowed to have a residential rental-restriction bylaw. All strata rental-restriction bylaws are invalid. (Note: no strata bylaw changes are required as provincial legislation changed). 
Short-term rental strata bylaws
 are allowed and a strata corporation or section may have, or create, a bylaw banning or limiting short-term rentals.
Strata Age Restricted bylaws limited to 55+: only strata bylaws which limit occupants to age 55+ are allowed; any strata age-restriction bylaw restricting ages to less than age 55 is invalid. Strata corporations and sections are allowed to have 
age-restriction bylaws
 that require one or more persons residing in the strata lot to have reached an age that is not less than 55 years. The legislation also allows any live-in caregiver, including caregivers under the age of 55, to live in a strata corporation or section with a 55+ age restriction bylaw. These changes apply regardless of existing strata bylaws.
Electronic Participation in General Meetings: all strata corporations in B.C. are allowed to conduct annual and special general meetings by electronic means, or use a hybrid of in-person and electronic participation. The strata council chooses the format of the meeting and must include in the meeting notice, instructions for participating by phone or other electronic means if permitted. No strata bylaw is required. There will be a four-month transition period (to March 24, 2023) beofre strata corporations must comply with the new legislative requirements when holding electronic or hybrid meetings. This legislation replaces the previous regulation which had permitted all stratas in British Columbia to conduct meetings by electronic method until December 31, 2022.

If you have any questions about these changes or want to chat about how this affects you and your situation, reach out - 604-347-8663 - jonny@jeffdonohoe.com.